Re Your Holiday Wish List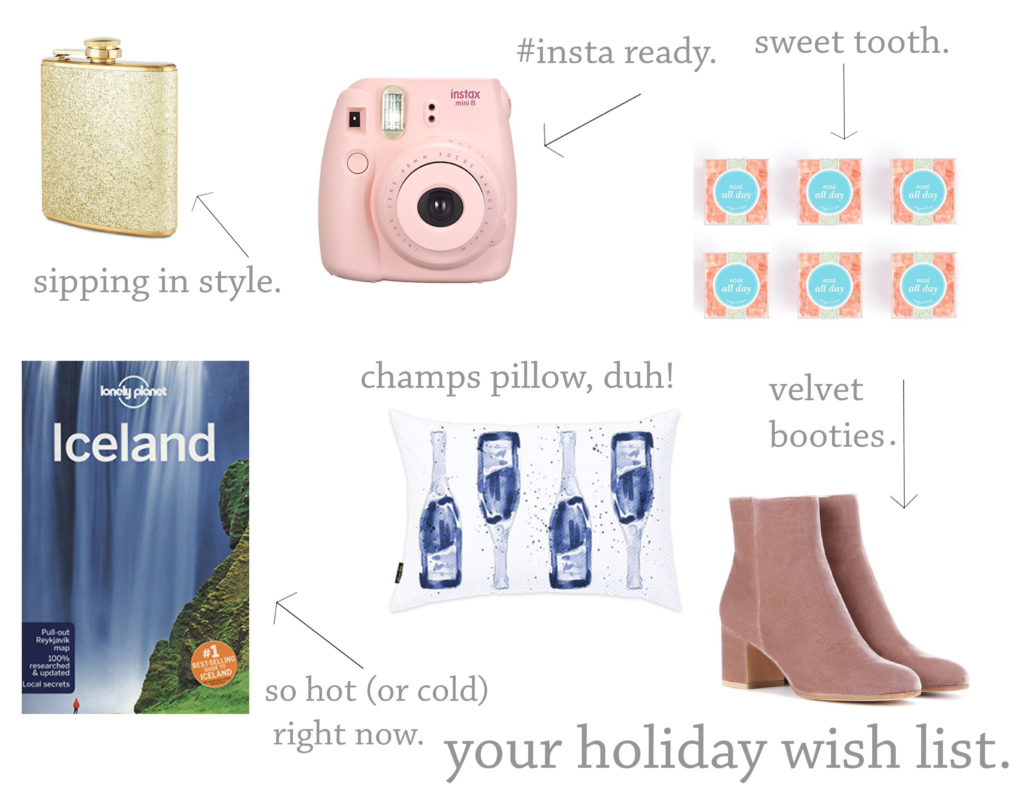 The holiday season is in full swing and as I noted in my last post — my velvet crush is very real and it has been a staple of my holiday dressing.  Holidays are not all about parties and velvet dresses (well actually they are) but they are also about gifts and presents.  Let's be honest, everyone's always like "it's the season of giving" but aren't you really more concerned with what you're going to receive this year (rather than give)?
I know we've all received those gifts where we have to smile enthusiastically on the outside but on the inside we're all "what the what, does this person know me at all!?"  Case in point: all I have wanted for the holidays, essentially every year of my life, is every single episode of Beverly Hills, 90210 on DVD (although DVD's may be outdated at this point — not the show, the DVD's!) and my parents still manage to give me every other gift but those DVDs.  My mom actually gave me a book on dinosaurs one year, well it was educational and I do have a soft spot in my heart for The Land Before Time, the dinosaur book was not on the top of my holiday wish list. Nice try Mom.
My dad usually goes with electronics for me.  Ever since gifting MacBook's and iPhones were all the rage, I just happen to be in need of one around the holidays…coincidence? (Insert side smile emoji.) In any event, yes the holidays are about giving, and I love seeing a genuine smile on someone's face when I have given him or her the perfect gift.  So this holiday wish list is about giving: give it to your loved ones with a not so subtle hint about your holiday wishes this season! Take it from MSL – I have got you covered.
Books, Travel, Electronics, and other Knickknacks
Are you planning on doing a lot of travel next year? Travel has been all the rage this last year or so and Iceland has managed to be the hottest ticket (thanks Iceland Air for the cheap flights!).  So if you're planning some travel in 2017 (I know I am!) a Lonely Planet travel guide is a great gift for you!  Do you have an insatiable appetite for celebrity gossip and want to know all about them IRL (in real life?).  Yup me too.  Grab Andy Cohen's latest diary about his misadventures in NYC and life!  Electronics are always a good idea.
Home
Since I just moved into a new place I have been loving all interior and decor items — so anything for the home is a good gift for me this year!  And donut forget about the donut pillow! Donuts have been on a serious uptrend and I don't think they ever went down like some other sweets I know. (I'm looking at you Cupcakes.)
Clearly, I'm a clotheshorse; MSL was essentially born out of my love for clothes. Well it can be hard to get someone a piece they will love, here are some great pieces that will work for most people's styles! Also, since this is your holiday wish list – you can show your loved ones which pieces they should get you!
For men you can't go wrong with some cozy PJ's, a timeless watch or a great wallet!
For ladies PJ's are also super fun and all ladies would appreciate a great pair of boots (over the knee is an excellent choice) this winter season.   Or how about a gift certificate to Bloomingdale's, Saks, or Neiman's – a gift certificate from an upscale department store gives that special holiday touch. Although, a lot of women love retailers like ASOS, Target, Forever 21, Zara, and H and M.
Just a few more tips for you gift givers and receivers:
Amazon owns Shopbop – so anything you want on Shopbop, you can easily find on Amazon (makes your shopping easier!).
There are also some great market places out there that will make your holiday shopping easier! Octer is a great place to find the best items this holiday. They pull together all the items you need in one place and tell you exactly where to shop them, with just one click. Make sure to try out the service this holiday season!
Now I want to hear from you. What's on your holiday wish list this year?
---
Now…it's time for a fabulous giveaway!
I've teamed up with an amazing group of bloggers
to give YOU a chance to win:
a $1,000 Target Gift Card, just in time for the holidays!
Simply enter below by completing the rafflecopter.
You'll receive one entry per completion.
This giveaway is open internationally and runs until 12/20.
Winner will be announced here. Good Luck!
Go on...leave a Comment!