NYFW (and Life?!) Survival Guide
Surviving NYFW is a tricky task! So, every year, I develop a new plan of attack. In this plan, I include every tip, trick, and tool I might need to hop from show-to-show and party-to-party like a boss.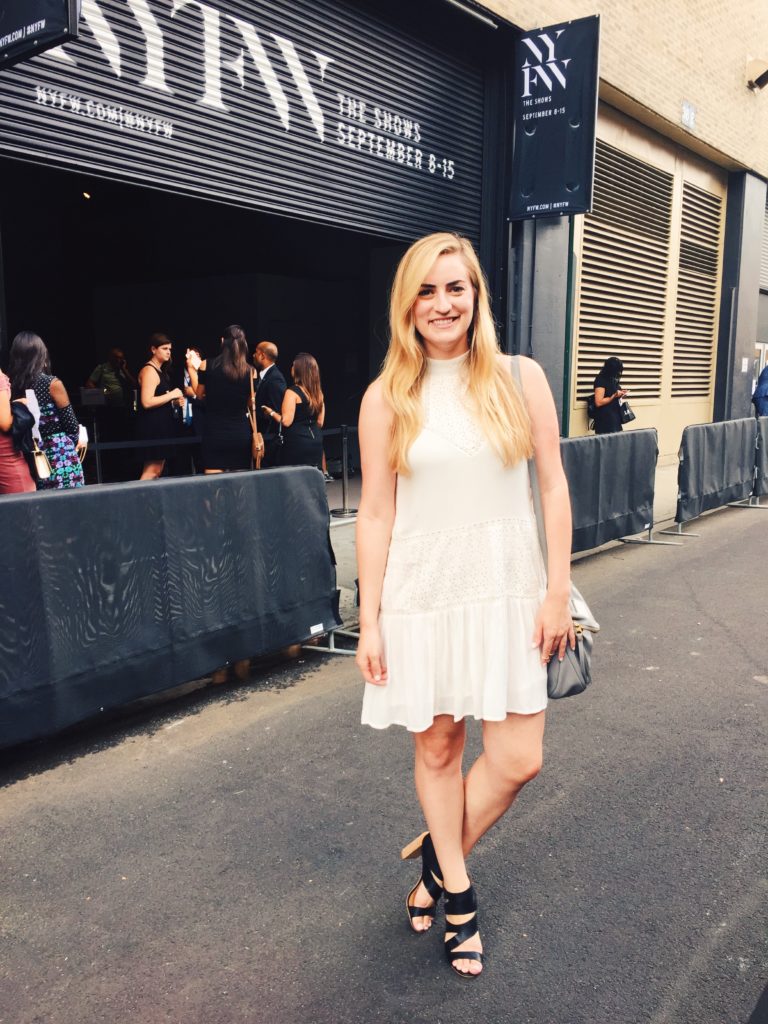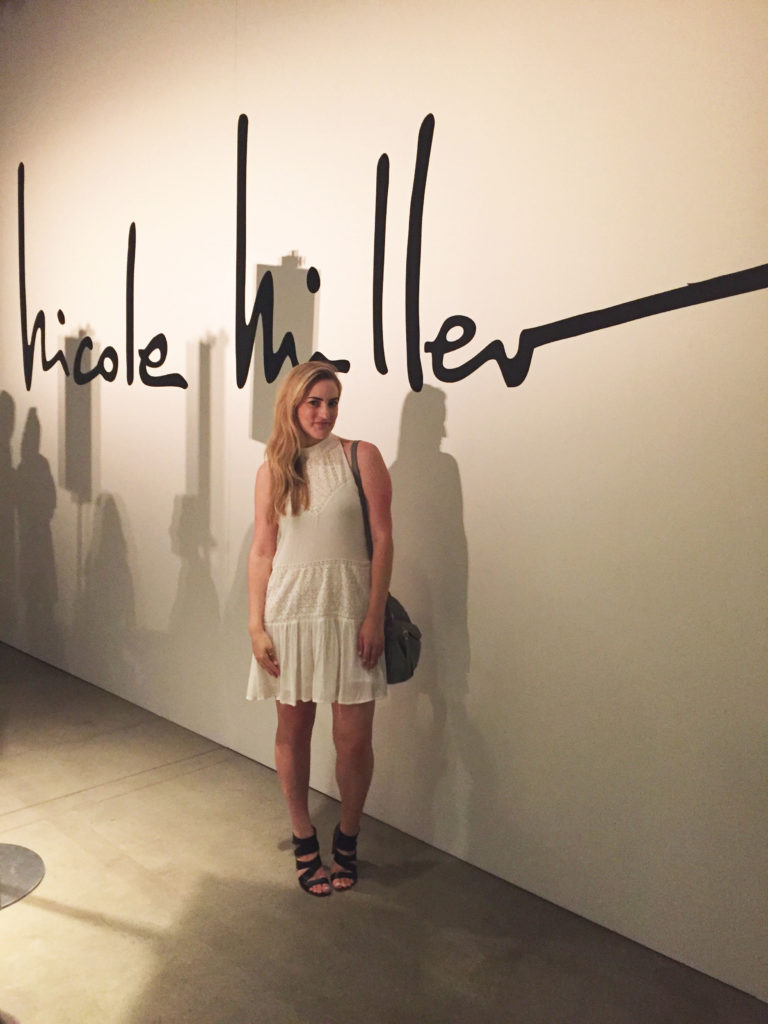 (Wearing: Lovers and Friends Dress, See by Chloe shoes — since we're moving into fall try these booties, Marc by Marc Jacobs purse.)
I'm a stiletto gal, but I always carry a pair of sandals or flats in my purse. They are key for making it through the day without having to amputate a foot! Luckily, fancier flat sandals and flatforms are trending this year, which means one can be fashionable and comfortable (gasp!) at the same time. However, since it's the best time of the year to show off that expensive pair of Louboutins I've never worn—and dropped my entire last paycheck on (Mom, this is all hyperbole, I promise)—I'll probably be toting around sandals.
Some flats I wear and recommend:
Repetto — they are feminine and very stylish, perfect for a dressier situation but still keeping that comfort level there.
 Tory Burch: I lived in these all summer and they will work really well for fall as well!
For sneakers I live in these year round — not just running around for fashion week!
Mobile Phone Charger
At this point, I can't even understand people who don't carry a charger with them 24/7. (Battery life is not what it used to be, all thanks to larger displays.) If you didn't know, Fashion week is a total battery guzzler. Between Instagram, Instagram Stories, Snapchat and Facebook Live, bloggers are uploading content via their phones every second of the day. You don't want to be that person who has no charge and is constantly trying to use someone else's charger. That, my friends, is a fashion week no-no.
I've had a real love affair with selfie sticks lately. I bought one in Italy, and now, I don't want to even think about a time when I didn't have it. Selfie sticks always come in handy, but during NYFW? They are a necessity. Bloggers, designers, and show-goers are constantly in touch with their followers, updating them on what they're eating, doing—and of course—wearing. When you're on-the-go alone and there's nobody around to take your picture, having a selfie stick is the perfect solution. Armed with a selfie stick, you can always take a quick shot of your OOTD (outfit of the day!).
During NYFW, I usually end up bouncing around all day without going back to my apartment, so having some make-up essentials in my bag makes freshening up super easy!
These items would definitely be in my bag:
Concealer
Blush
Eye-liner
Mascara
Lip gloss or lipstick
Tissues
Tweezers
Make-up remover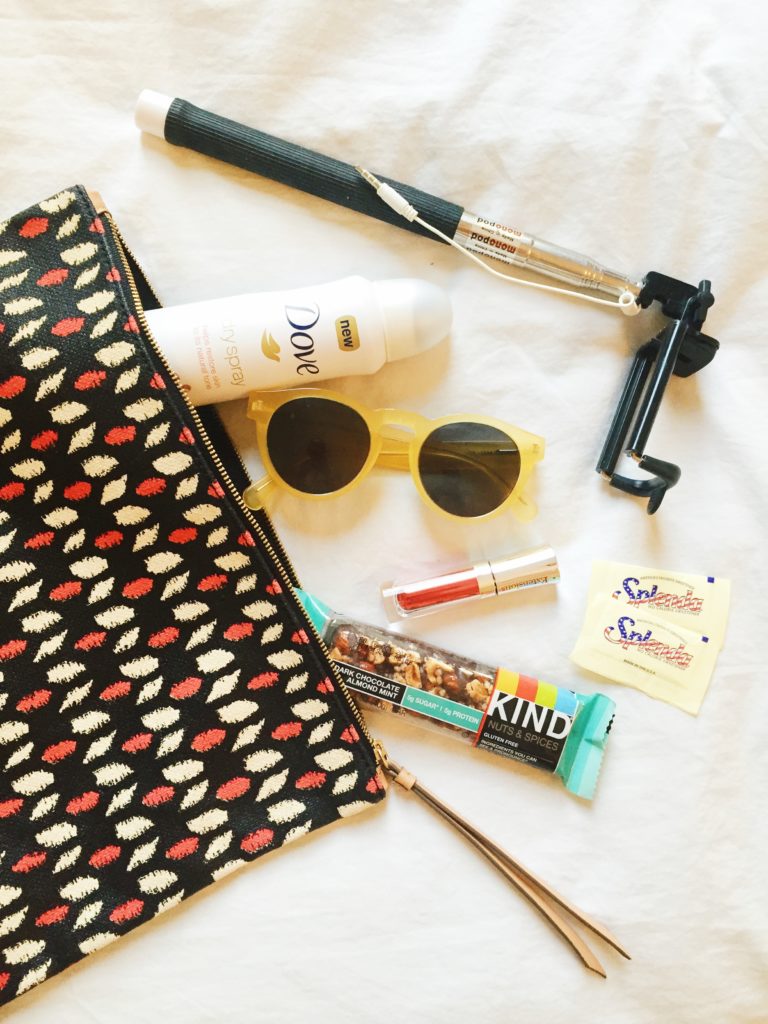 Snacks
You won't always have the time to sit and enjoy a leisurely brunch (#1 fan of leisurely brunches, right here) during NYFW, so it's always good to have something in your bag. You don't need to be passing out on the runway, now. And those fancy fashion parties love to supply you with lots of booze, but always skimp on the food. I don't have time for that, so having some crackers or a snack bar in my purse (I have been living off these KIND Snack bars) is the perfect solution.
Every woman knows the value of a good tote bag. I'm sure Mary Poppins agrees. Remember when she literally had everything but the kitchen sink in her bag? Well, just call me Mary Poppins!
Advil, Gum, Deodorant, & Splenda
Advil: avoiding any kind of pain is always a must.
Gum: you will be talking to a lot of people, and no one likes bad breath.
Deodorant: same as gum. Mainly, no one likes bad body odor.
Splenda: do not, I repeat, do not try to offer me Stevia. I like Splenda in my iced coffee… and even if one cafe doesn't carry it, I'll be upset. Iced coffee is NYFW's Gatorade… and I want mine to taste just right.
Business Cards
This seems like a no-brainer, but NYFW is the networking event of the year. I have met many people who come without business cards. You want to be ready to hand someone your card so they can easily get in touch with you after the week is over.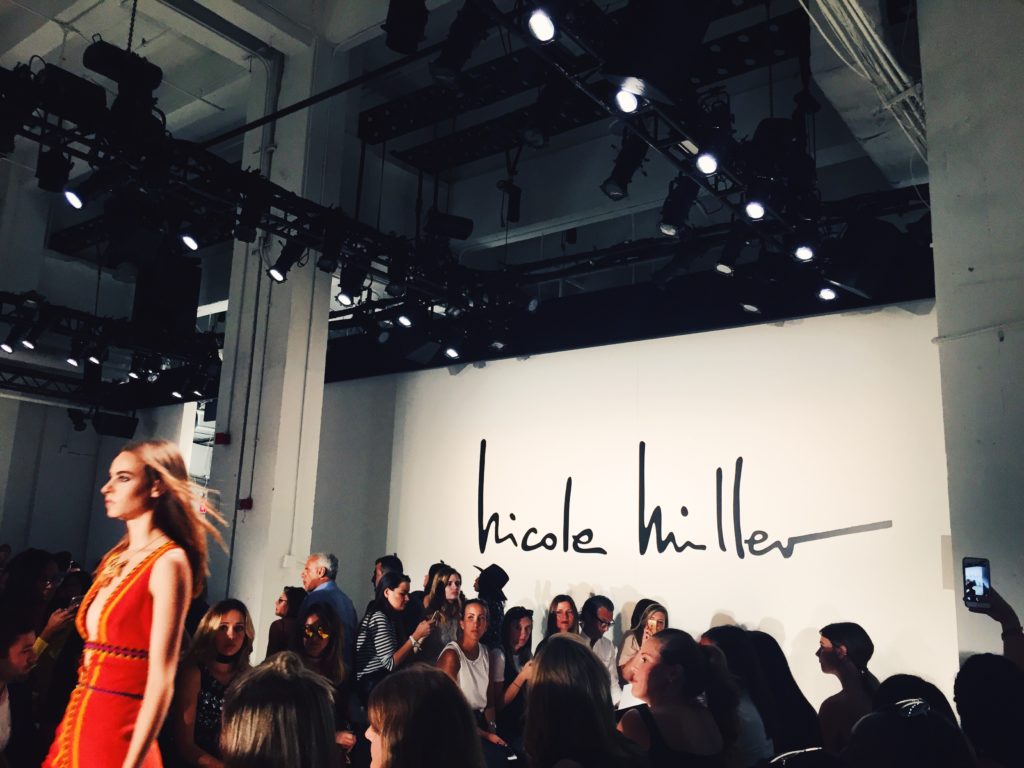 There you have it: that's my New York Fashion Week survival guide and now that I think of it — it's survival guide for every day!
This piece originally appeared on Rally by Eventbrite, where you can always find the best things happening in NYC.
Go on...leave a Comment!